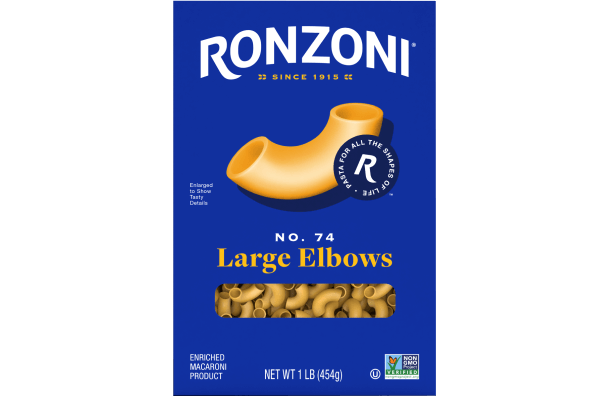 Products
Grin, Large Elbows
The gentle giant. A comforting friend. Ronzoni Large Elbows macaroni pasta brings on the big smiles in mac and cheese, pasta salads, and chili mac. Larger than our classic Elbows, semicircular fun. Get ready for grins!
Cooking Directions
Step 1
Select number of servings
Servings
Pasta
Water
Salt
2
1/4 box
1 quart
1 tsp
4
1/2 box
2 quarts
2 tsps
8
1 box
4 quarts
1 Tbsp
Step 2
Pick your preferred firmness
Step 3
Cooking directions
Bring water to a rapid boil. Add salt for flavor (optional).
Add pasta and stir; return to rapid boil.
Cook uncovered 8-10 minutes, stirring occasionally.
Immediately drain in colander. Serve as desired.
STORAGE: To keep cooked pasta fresh for later use, toss with a small amount of olive oil, cover, and refrigerate.
Ingredients

DURUM WHEAT, SEMOLINA, DURUM WHEAT FLOUR, NIACIN, FERROUS SULFATE (IRON), THIAMIN MONONITRATE, RIBOFLAVIN, FOLIC ACID. 

Contains: Wheat. 

May Contain: Eggs. 
Nutrition
· Large Elbows, Like an Old Friend · Large Elbows, Like an Old Friend
Large Elbows, Like an Old Friend
Bold Choice
Macaroni salads or stews, turn any recipe hearty and satisfying with Large Elbows.
Big Flavor
The tubular hollows of Large Elbows transport even more cheesy, gooey flavor.
Grand Casseroles
Make a strong statement in savory casserole bakes.
Lengthy Curves
Large elbows pasta are slightly larger versions of the classic curved pasta.