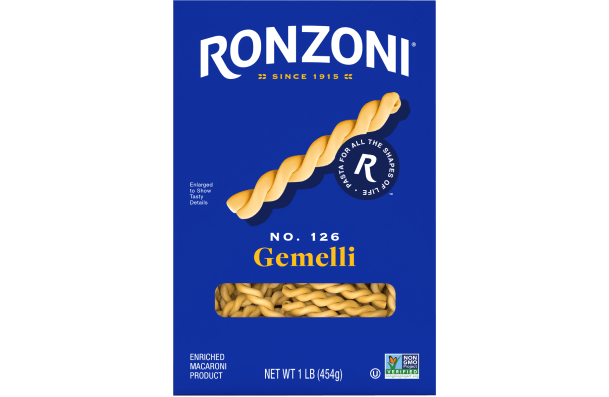 Products
Posh Gemelli 
What a gem! Ronzoni Gemelli pasta, aka "pasta twins," puts a lovely twist on any pasta dish. Pasta twirled into a twine-like twist, Gemelli's curves hold all types of sauces. Baked, boiled, or chilled, this pasta brings the thrills.
Cooking Directions
Step 1
Select number of servings
Servings
Pasta
Water
Salt
2
1/4 box
1 quart
1 tsp
4
1/2 box
2 quarts
2 tsps
8
1 box
4 quarts
1 Tbsp
Step 2
Pick your preferred firmness
Step 3
Cooking directions
Bring water to a rapid boil. Add salt for flavor (optional).
Add pasta and stir; return to rapid boil.
Cook uncovered 11-13 minutes, stirring occasionally.
Immediately drain in colander. Serve as desired.
STORAGE: To keep cooked pasta fresh for later use, toss with a small amount of olive oil, cover, and refrigerate.
Ingredients

DURUM WHEAT, SEMOLINA, DURUM WHEAT FLOUR, NIACIN, FERROUS SULFATE (IRON), THIAMIN MONONITRATE, RIBOFLAVIN, FOLIC ACID.  

Contains: Wheat.  

May Contain: Eggs.  
Nutrition
· Twine and Dine with Gemelli · Twine and Dine with Gemelli
Twine and Dine with Gemelli
Twist and Twirl
Gemelli is the enigmatic pasta twirled into a tasteful twist!
Styled Salads
For a bit of fun and fancy, dress up pasta salads with gemelli.
Tressed to Impress
Gemelli's twisty tresses are best dressed in red and creamy sauces.
One-Pot Potential
This specialty pasta adds pizazz, even in the simplest recipes.