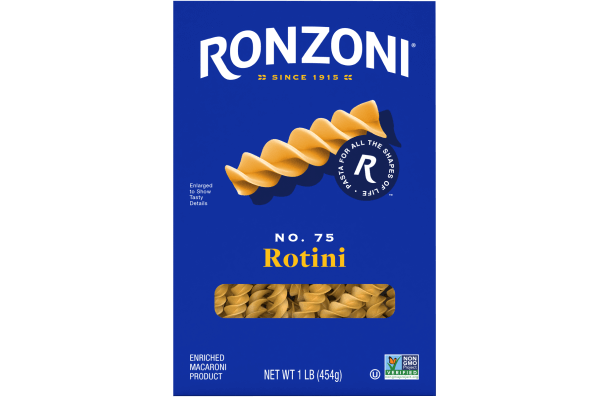 Products
Twisty, Rotini
Twisty, twirly, Ronzoni Rotini spins up fun in all sauces. Casseroles to pasta salads, ragus to light tosses. In a main dish or side, each bite is a jubilee.
Cooking Directions
Step 1
Select number of servings
Servings
Pasta
Water
Salt
2
1/4 box
1 quart
1 tsp
4
1/2 box
2 quarts
2 tsps
8
1 box
4 quarts
1 Tbsp
Step 2
Pick your preferred firmness
Step 3
Cooking directions
Bring water to a rapid boil. Add salt for flavor (optional).
Add pasta and stir; return to rapid boil.
Cook uncovered 10-12 minutes, stirring occasionally.
Immediately drain in colander. Serve as desired.
STORAGE: To keep cooked pasta fresh for later use, toss with a small amount of olive oil, cover, and refrigerate.
Ingredients

DURUM WHEAT, SEMOLINA, DURUM WHEAT FLOUR, NIACIN, FERROUS SULFATE (IRON), THIAMIN MONONITRATE, RIBOFLAVIN, FOLIC ACID.

Contains: Wheat.

May Contain: Eggs.
Nutrition
· Twisty, Twirly Rotini · Twisty, Twirly Rotini · Twisty, Twirly Rotini
Twisty, Twirly Rotini
Springy Spiral
Rotini is a short pasta shape, known for its corkscrew shape.
Close Connections
Rotini is a cousin to Fusilli but with a slightly more compact and tighter spiral shape.
Spin Up Scrumptious
Named "little wheels," Rotini's spirals spin up a variety of sauces from meaty ragus to light, lemony oils.
Pesto Pal
Rotini noodles perfectly twist and swirl herbaceous pesto sauce, creating a delectable duo.