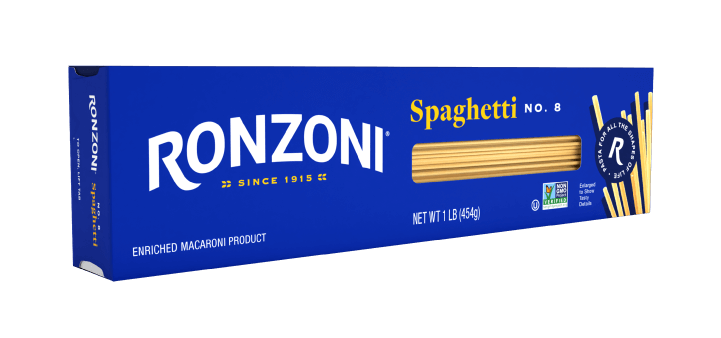 Products
Twirlin' Spaghetti
Ronzoni Spaghetti twirls up yum on every fork—and some spoons. Paired with hearty red sauces, creamy whites, light olive oils, or even savory soup broths, Spaghetti's long, thin shape is as versatile as it is beloved. Slurp it up!
Cooking Directions
Step 1
Select number of servings
Servings
Pasta
Water
Salt
2
1/4 box
1 quart
1 tsp
4
1/2 box
2 quarts
2 tsps
8
1 box
4 quarts
1 Tbsp
Step 2
Pick your preferred firmness
Step 3
Cooking directions
Bring water to a rapid boil.

Add salt for flavor (optional).

Add pasta and stir; return to rapid boil.

Cook

uncovered

9-11

minutes, stirring occasionally. 

Immediately drain in colander

.

Serve as desired. 
STORAGE: To keep cooked pasta fresh for later use, toss with a small amount of olive oil, cover, and refrigerate. 
Ingredients

DURUM WHEAT SEMOLINA, DURUM WHEAT FLOUR, NIACIN, FERROUS SULFATE (IRON), THIAMIN MONONITRATE, RIBOFLAVIN, FOLIC ACID.

Contains: Wheat. 

May Contain: Eggs. 
Nutrition
· Oh-So Ready for Spaghetti · Oh-So Ready for Spaghetti
Mini and Mighty Orzo
Balanced Breadth
Thicker than Angel Hair. Thinner than Linguine. Spaghetti's balanced width makes it incredibly versatile.
Sauce Symphony
Pairs well with a variety of sauces, from light to hearty, red to white, creams to oils.
Long-Loved
Long Spaghetti strands are the perfect length to twirl around your fork.
Perfect Circle
Spaghetti pasta: cylindrical shape, defined ends, rounded edges. Absolute perfection.